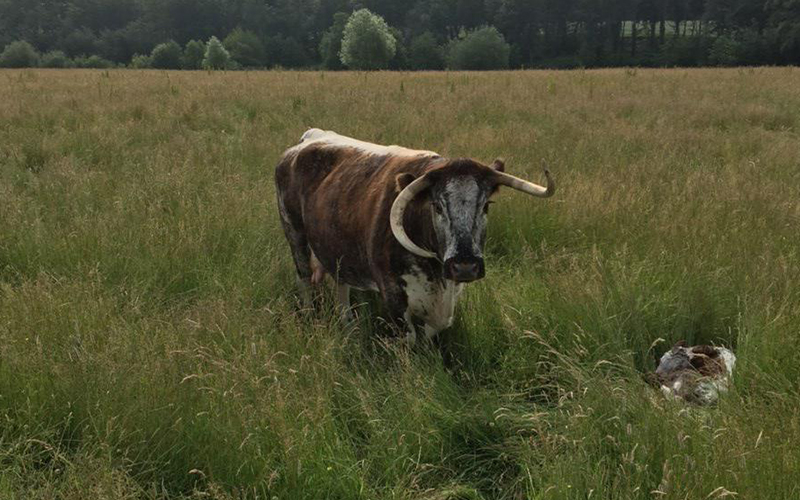 With the start of a new month comes the chance of a new beginning. As we change our calendars, we get a fresh start, an opportunity to leave the past and focus on our future. As I anticipate what this new beginning brings, I find myself smiling at the change that has already happened. I am delighted to announce that earlier today our first Longhorn calf was born at Ewhurst Park! Buzzing with excitement, my team and I are thrilled to welcome this newest member to our project.
Born on July 1, this calf is the first live birth we have experienced as part of our biodiversity and rewilding journey. It's a tremendous milestone for our team (and for X, the mother cow, I'm sure!) After checking in on the mother and calf, finding them relaxing in their plush grassy meadow, we can thankfully say they are in good health. As my relief settles in, I begin to reflect on the miracle of life. I am humbled by this act of nature and find myself envisioning the potential future births at Ewhurst Park.
The growth of this herd will play a crucial role in the development of the estate. The Longhorns, alongside our Belted Galloways and the two breeds of deer that comprise our rewilding project, will transform the landscape on which they live. Simply by browsing, grazing, and making their way across the land, the cattle and deer will churn up the soil, feed it with nutrients, scatter seeds and organisms across the paddock. What was once a pristine field will be restored to something like what it looked like thousands of years ago, wild and teeming with life.
Focused on creating an environment that can maintain itself, our rewilding efforts are crucial for regenerative agriculture. Allowing nature to establish its natural rhythm, rewilding techniques create a healthy and diverse habitat. To effectively do so, one must introduce large animals and natural predators to the environment. With the birth of our first calf, progress is being made! As we continue to introduce new livestock, the Ewhurst ecosystem will diversify, returning to its forgotten natural state.  
While following rewilding practices established by professionals, we are using a mixed model at Ewhurst Park. I should be clear that, beautiful though they are, these animals are livestock and they are kept for meat as well as for their effect on the landscape. We keep animals that are used for meat, others for eggs, and regular readers will know that we have a couple of pets in Poppy and Rosie.
Ewhurst is a unique platform to try different approaches. All that I've learned about farming so far in my journey has told me that there's no single 'right way' to farm this land. I want to be respectful of the land and of traditional farming practices, while also experimenting with the best new approaches.
As the estate continues to develop, we will continue to utilize this mixed approach. Appreciating the benefits of a diverse environment, we aim to create a self-sustainable ecosystem to be enjoyed by both the livestock and our visitors at Ewhurst Park. With plans to continue breeding livestock on the property, hopefully our newborn calf will have some friends to play with in the future!