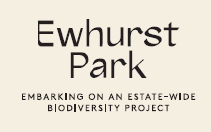 In this column, I've kept readers up to date on our journey at Ewhurst Park, as we transform the estate and explore its possibilities for bio-diversity.
as well as developing a few local community group initiatives, I have been very focused on inviting the like-minded and curious to experience the Park alongside me.
I'm delighted to announce that as part of that vision, this Summer I will be hosting a series of events at Ewhurst Park.
I can't wait to welcome guests to come and discover Ewhurst, enjoy all the fruits of nature and explore their creativity. For anyone interested in sustainability, nature and gastronomy, this Summer's events will be a stimulating, curious and luxurious escape.
The events kick off on the 26th August, master forager Miles Irving and renowned chef Mark Hix will entertain guests with a morning of foraging in Ewhurst's spectacular grounds, before Mark prepares a sumptuous lunch using wild ingredients found on the day.
The following weekend on Saturday, August 28th, guests can experience Shinrin-Yoku forest bathing guided by Helena Skoog, followed by an afternoon of Frukebana, a twist on the Japanese art of flower arranging, led by Olivia & Kasia. The day concludes with a still life drawing class.
Next, guests are invited into the world of wine and local cheese on Friday, September 3rd, from 11 AM – 3:30 PM. Attendees will explore the art of cheese making and wine tasting with the help of experts Bronwen and Francis Percival, authors of Reinventing the Wheel – Milk, Microbes and the fight for real cheese. Bronwen and Francis will guide guests through a curated tasting, demonstrating cheese's unique ability to express the terroir of where it is produced, reflecting the biodiversity of the natural environment.
The final summer event series will occur on Saturday, 11th September, with a floral arranging and flower pressing workshop with Isabel Hudson. The event is from 11 AM – 3:30 PM and will allow participants to explore floral design and native species across Ewhurst Park.
To join one – or all – of our amazing summer event series, you can book your tickets online at ewhurst-park.eventbrite.com. 
I look forward to hosting you at Ewhurst Park, either this Summer or some time very soon.