Last week I was fortunate enough to attend the official opening of the new orchard at Priory Primary School. This was a fantastic event, celebrating the new orchard and the opportunity it brings for pupils to experience and interacts with nature. We were joined by the school's staff, governors and eco council.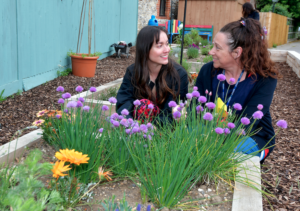 The garden recognises the school's commitment to biodiversity in the area, something I am hugely passionate about and I am pleased to have been able to support the project. It is inspiring to see the enthusiasm from the students for the wild garden. I am certain that this new area within the school will be popular with the children and will spark more consideration for their natural environment.
The opening ceremony also provided an opportunity for us to thank and recognise the outstanding service of Mrs. Angela Stacy, a member of the school's catering team. Angela is retiring after 26 years of service to the school, and as part of the new garden there is a pagoda which has been named the "Angela Stacy Pagoda".
During the day I spoke to Charlotte Williams from the school eco council, she was incredibly proud to see the garden opened and felt it really demonstrated the how passionate the Primary School is about nature and wildlife. I also spoke to Headteacher, Mike Stewart and we discussed the great value that nature can bring to a child's education.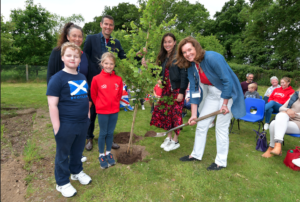 When my children were first born I knew I wanted to bring them up somewhere where they could embrace nature first hand, like I did as a child. At this event I was reminded how important it is to bring the natural world into our everyday lives, ensuring more children have access to plants and wildlife.
Within the orchard there are 53 newly planted trees, and I am excited to see these trees grow and create an area of great natural diversity within the school. There will be many joyous apple picking seasons ahead. I also believe it is a fitting tribute to the Queen's seventy years of service that these trees will be here for at least seventy years more.