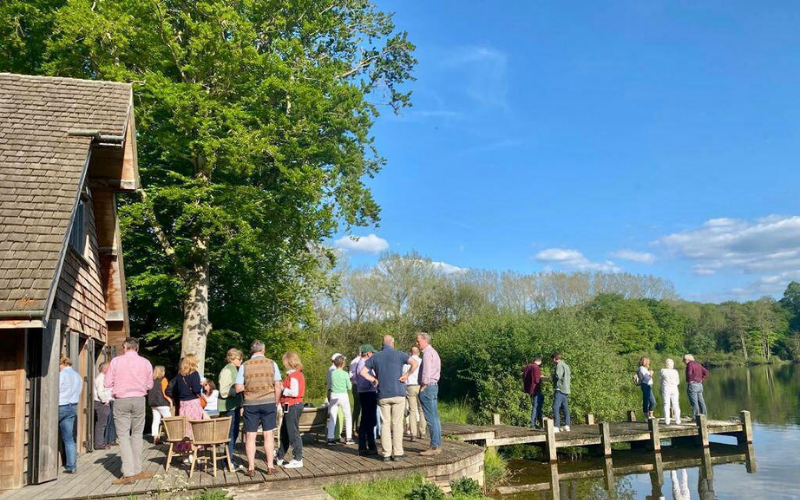 The pandemic offered a moment for many of us to reflect on our own and our family's mental and physical health, including myself. For people stuck indoors for weeks, in cities without easy access to nature and open spaces, an emotional strain was unavoidable. It also provided an opportunity to reflect more broadly on healthcare provision and our physical health. 
It is well documented that access to nature benefits people's mental health and wellbeing. We've always known that "fresh air and exercise" can do us the world of good. There's growing scientific evidence that getting out into nature can help sleep patterns, reduce stress, and improve mood and self-esteem. I've been delighted to play my own small part in widening access to green spaces and promoting good health by opening up Ewhurst Park to visitors from our local community and beyond.
A beautiful sunny day at Ewhurst
Earlier this month, I hosted a tea in support of the Hampshire Medical Fund at Ewhurst. The afternoon tea was designed as a refuelling stop after a busy day of fundraising activities. Members of the community enjoyed refreshments by the boat house and fortunately the weather was sunny enough to spend time outdoors. The fundraiser was a big success and enabled the Fund to purchase 14 new Eclipse Heart Monitors.
Afternoon Tea at Ewhurst Park
Ultimately, I think the National Health Service and the Natural Health Service offered by our wonderful outdoor spaces need to work hand in hand with one another. It's time for us to make a case for integrating nature and time spent outdoors with mental health treatment. I want to find more ways to put Ewhurst at the centre of these conversations and I want to be able to continue to find ways to support community organisations that focus on health and wellbeing, like the Hampshire Medical Fund.