Over the weekend, I had the opportunity to attend the first ever Wilderfest, hosted by my friend Derek Gow. The event was conceptualised by Derek as an opportunity to bring together the rewilding and conservation community, in a social as well as educational setting. In my experience, we usually interact in more serious settings (influencing policy makers for example) and so have not had many chances to share stories, techniques and laughs. 
I had a fantastic time at Wilderfest. I learned so much about rewilding and the impact it truly has had on the land and wildlife. Wilderfest was hosted by Derek at his farm in Devon, and we were lucky enough to spend the weekend in this magnificent setting. Stepping into Rewilding Coombeshead was like leaving your world at the gates and entering a different dimension. It is truly a natural wonderland. You can hear birds, insects, and livestock as they wander around and see and smell wildflowers, grasses, plants and trees all around. Every inch of the space is teeming with life. Even along the path, there were pools with tiny frogs in them – I had to make sure to avoid stepping on them!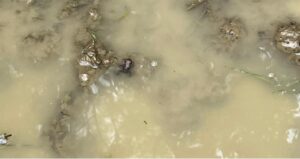 Derek's farm is teeming with life everywhere – a small frog on the path
The first session on Saturday was a chat on conservation with the legendary Professor Carl Jones and Roy Dennis. Carl Jones has been personally responsible for saving several species of birds from the brink of extinction. Roy Dennis similarly has made enormous headway in conservation and rewilding – working with several types of bird of prey  as well as lynx, squirrels, water voles and beavers. They have had so much success and saved so many animal species. To hear them talk about recovery and nature generation gave me a lot of hope. Just learning about their processes and how much success they have already had filled me with excitement for my own land restoration projects and Ewhurst.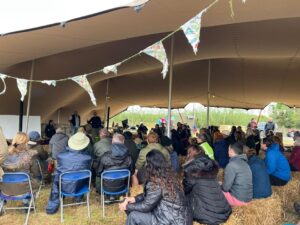 Roy Dennis, Carl Jones and Derek leading a session on conservation
Later that day, I attended an eye-opening session on beavers with Prof. Briony Coles and Derek. It was really interesting to see how they existed in our landscape in the past, and what reintroducing them could do to promote biodiversity and reinvigorate the land. The wetlands and meadows created by these amazing creatures are host to thousands of species, both plants and animals, that otherwise might not have space to thrive. As well as benefiting other wildlife, beavers improve water quality and reduce the likelihood of flooding. They also clear trees that crowd out other types of vegetation, allowing natural meadows and grasslands to return. Dr. Richard Brazier and Dr Alan Puttock closed the beaver-focused day with an introduction to the hydrologic changes in beaver engineered spaces and how they are creating large-scale changes. The science behind it was amazing – apparently the impact of beavers can even be seen from Space!
I noticed evidence of the benefits of beavers all around me at Coombeshead. The habitats created by beavers are now home to frogs, toads, newts, dragonflies and damselflies, otters, kingfishers and the critically endangered water vole. The plants growing around where beavers live are varied and colourful. And, of course, the beavers themselves were the stars of the show, swimming gracefully through their pools together. 
To close the day, we were treated to a mouth-watering BBQ and some harp music by the amazingly talented Sarah Deere Jones. The music was truly beautiful and went perfectly with the magic of nature all around me. The rewilding community has been so welcoming to me as I start on my journey and it was amazing to congregate in the same place to talk about what we're doing and our passion for conservation and nature. 
What a weekend! Between the talks, the tours of land, spending time with this incredible community, and the opportunity to see wildlife in such a magnificent setting it was an inspiring experience. I cherished the opportunity to spend time with people at the very front of this movement in the UK and experience the incredible festival together. My thanks to Derek for organising, as well as all of the experts for letting me pick their brains, not to mention those who have been on their journeys for many years and shared their experiences with me. I already can't wait for Wilderfest 2023!