I hope that everyone reading has been staying healthy and hydrated during this heatwave. Apart from the current heatwave, the summer has, so far, been a wonderful one for me at Ewhurst. It has been great to see our projects moving forward and the new wildflowers and foliage that the warmer weather has brought. In the early summer, this meant wild crocuses shooting up in the fields and our cows wandering into the forest to give birth to calves in the shade of the trees, as undomesticated bovines would in the wild. Joyous new life sprung up all over the farm.
It has also been an opportunity for me to enjoy some time in the kitchen cooking for my family. I love connecting with ingredients and recipes that I grew up with in Malaysia or that are a part of my new home in the UK – not to mention sharing delicious and healthy meals with my children. I have included a recipe below that I think would be wonderful for this warm weather: chilled cucumber and dill soup with crushed walnuts. I hope that the culinary among you love this dish as much as I do!
Where I grew up in Malaysia, cucumbers are a very commonly planted vegetable. We had them in our backyard in a raised bed. They are easy to grow – they generally take around ten days to germinate and mature in two months. They thrive in rich soil with plenty of organic compost. I have recently been introduced to making my own Bokashi compost and I can't wait to try it out with cucumbers in my growing patch… though that I will leave for another blog post. Back to chilled cucumber soup, the refreshing mix of yoghurt (or a plant based substitute), cucumber, garlic and walnuts is the best combination for a hot day. I'd even add some extra ice cubes on a day like today!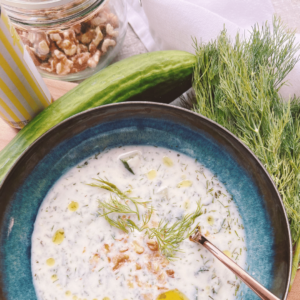 Chilled Cucumber and Dill Soup with Crushed Walnuts
Serves 4
Ingredients:
100g walnuts
450g natural yoghurt or plant based yoghurt (I like Alpro)
200-220ml cold water
2 cloves of garlic, peeled and crushed
20g of dill, finely chopped with a little set aside to garnish the bowls
1 tablespoon walnut oil, plus a little more to finish the bowls
1 tablespoon of extra virgin olive oil
1 tablespoon lemon juice
Sea salt
Process:
Preheat the oven to 200C/180C fan/gas mark 6 and toast the walnuts on a tray for 6-8 minutes until golden brown. When done, let cool down and gather in a bag to loosen the skin, then pick the nuts out leaving the skin. Finely chop them.
Beat together the yoghurt (or plant based substitute), crushed garlic and oils until smooth. Stir in the dill and nuts (keeping some behind to garnish the bowls). Stir in cold water until the soup is a nice consistency between thin and thick cream, then season to taste with salt. Chill the soup in the fridge for an hour.
Next cut and chop the cucumbers into a very fine dice and layer in a colander with a few sprinkles of salt. Leave for half an hour so the salt draws out the excess water from the cucumbers.
Just before serving, stir the cucumber and lemon juice into the chilled soup and check the seasoning is to taste. Finish the bowls with a garnish of some of the walnuts and dill that had been set aside and dribble over a few drops of walnut oil.
And voila! I hope you enjoy the recipe. Feel free to share any pictures or stories from making this dish on Instagram and remember to tag @ewhurst_park I would love to see what you all do!