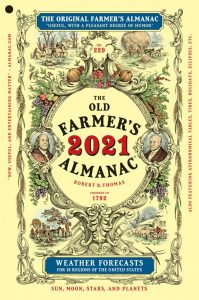 Today is the 255th birthday of Robert B. Thomas, the founder of the Old Farmer's Almanac. The Almanac is a publication I recently discovered, but am fascinated by. A trusty tool and reference guide for farmers, it is the oldest continuously published periodical in North America. It didn't even cease publication during World War 2!
Almanacs are reference books which include important information for the year. The Old Farmer's Almanac has been published since 1792, now publishing four editions per year with an annual circulation of 3 million copies. It is perhaps the quintessential resource for farmers everywhere, containing weather forecasts, planting charts, astronomical data, recipes, and articles.
As a newly minted farmer myself, I love the idea of a publication containing all the knowledge you need to look after your plot of land. Of course, I've relied heavily on the experts and enthusiasts I've met over the past year on my journey into farming, and in reality there's no way that you could condense the lifetimes of experience they've brought to Ewhurst into a single book. That said, the Almanack of today remains useful, even in the age of Google. I particularly like the time and money-saving garden advice, which is as relevant for those looking to cultivate smaller gardens as well as larger projects.
This year's edition features a chapter called small-space gardening 101, as well as sections on ''how to make a field'' and ''growing wild'', both of which have served me very well in thinking about the future of Ewhurst Park. The section on 2021 trends looks at what might be in store for farming in the upcoming year, and I was pleased to see selling food produced on farms practicing regenerative agriculture high on the list (page 7 for anyone keen to have a look!)
There is even a section called ''farming for good'' by Stacey Kusterbeck and Karen Davidson, which looks at how techniques like solar panelled barns can allow entire farms to be run completely on solar electricity.
More than the current content, however, I like to think that a copy of the Almanac puts me in touch with 255 years of farming experience. Generations of people have faced the same questions and problems that I have, and it's comforting that traditions like the Almanac have survived to pass on knowledge.
Hopefully Ewhurst might even be featured in the Old Farmer's Almanac one day, hopefully before Robert celebrates his 300th birthday!
You can find more information on the Old Farmer's Almanac 2021 edition here: The Old Farmer's Almanac 2021