Last week was International Youth Day – the official UN day to celebrate the impact that young people are having on the world around us and their crucial role in building our future. Last December, we hosted a group of young environmentalists from across the UK at Ewhurst. We showed them our current projects and shared our hopes for future rewilding and regenerative farming on the land. It was an incredible session and I was left in awe of our next generation of environmental activists and their passion and creativity. Their energy was tangible and it was wonderful to end our year at Ewhurst on such a hopeful note for the future. 
Interactions like this are truly inspiring for me. Young people are absolutely driving the agenda in terms of conservation, sustainability and biodiversity. I wanted to take the time in this blog post to highlight and celebrate some amazing young activists I have heard of who are at the forefront of this movement. If any of the young people below are reading, Thank you so much for all you do! I am amazed and inspired by your work. 
Ili Nadiah Dzulfakar
Ili Nadiah Dzulfakar is an incredible young woman from my home country of Malaysia. I heard about her work through some friends at home. Ili is the founder and spearhead of Klima Action Malaysia (KAMY), an amazing grassroots organisation that aims to strengthen civic engagement and empower vulnerable groups to participate in climate action. KAMY also partners with Malaysia's Indigenous people who are battling to preserve their livelihoods and forest lands.
Her work is especially inspiring to me. As a child, I spent nearly all my time roaming the very forests, wetlands and streams that she is striving to protect. Her deliberate intersectional and inclusive approach, especially around the involvement of indigenous people, is also a unique and incredible approach to conservation. 
Check out and support her amazing work here.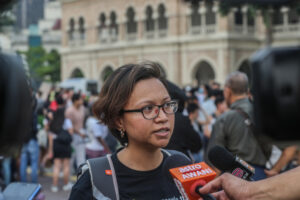 IMAGE: MSE Asia
Scarlett Westbrooke
Scarlett Westbrook is a climate activist in the UK. She is the Head of Political Engagement for the student-led campaign Teach the Future, where she wrote the first ever student-written bill, the English Climate Emergency Education Act, as the youngest regular policy writer in Parliamentary history. She is also, very impressively, the youngest person in the world to obtain an A Level in Government and Politics, which she taught to herself at age 13. 
Scarlett is now a regular correspondent and journalist, using her platform and her pen to bring climate change and conservation to the forefront of the national conversation. She is truly a champion for young people and for the natural world. 
Read more about Teach the Future and their inspirational campaign here.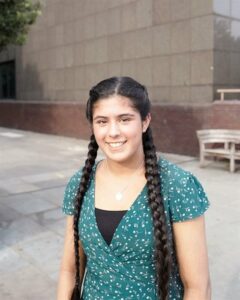 IMAGE: DMU
Jamie Margolin
Across the Atlantic in the US, Jamie Margolin co-founded the youth climate action organisation Zero Hour at age 15, and was the co-executive director of the organisation for three years. Zero Hour is an organisation dedicated to creating entry points, training, and resources for new young activists and organisers wanting to take action on climate change. It was set up in response to the hurricane in Puerto Rico and the 2017 wildfires in Washington State.
Jamie and her cohort have taken legal action against the state government of Washington, on the basis that a stable climate is a human right. She has pushed the movement to new heights in the US, and is a testament to what young people can achieve when united behind a cause they believe in.
Check out the incredible organisation Zero Hour here.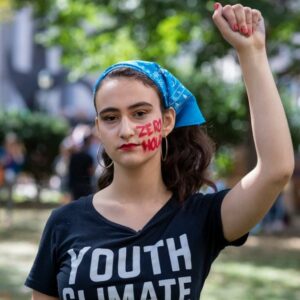 IMAGE: Dazed
I have been humbled and honoured to work with some amazing young people in my own life as well. Harvey Tweats has been instrumental in my thinking about what we can achieve on the farm, and brings the local perspective and fresh thinking to our project, his enthusiasm is infectious.
But it is not only young adults that have an interest and are taking a stand on climate justice and conservation. I have loved building my relationship with the Priory Primary School and other local schools, working with the schoolchildren, teaching them about the nature and produce found on our estate and learning from them about their interest in the land and the environment around them. Their energy and curiosity is unmatched, and it is one of the most rewarding experiences to see them grow into budding environmentalists, earth scientists and activists. It inspires me to be able to see the world and nature around them through the wonder of their eyes.
The old saying is true that children are our future, and the future is looking bright. 
Happy International Youth Day to all of the young people around the world, working to build a better future.